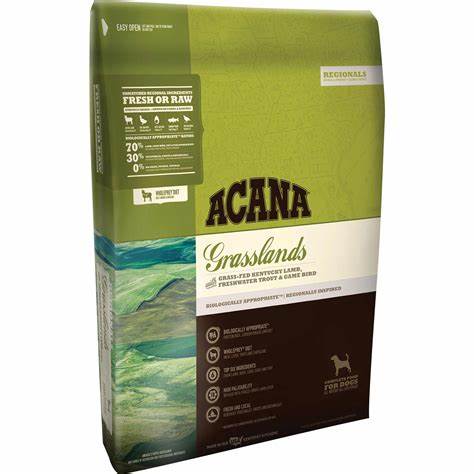 FOR ADULT DOGS OF ALL BREEDS AND SIZES
Reflecting Alberta's fertile grasslands, ACANAGrasslands is loaded with local lamb, whole eggs, wild-caught fish, and cage-free duck – all deliveredFRESH each day.
ACANA's fresh meat diversity mirrors your dog's natural diet, and generous infusions of New Brunswick herring promote his peak conditioning.
Grain-free to reduce unwanted carbohydrates, ACANAfeatures local fruits and vegetables for a rich, natural supply of phytonutrients.
Prepared in our award-winning kitchens from Canada's best and freshest ingredients, ACANA keeps your dog happy, healthy and strong – guaranteed!