Advantage Cats Over 4 Kgs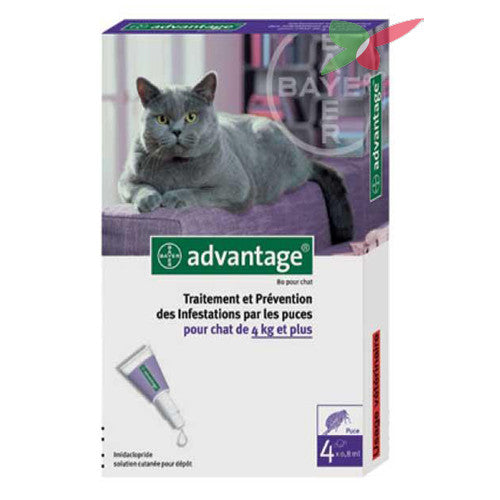 Size: 4 Pack
Advantage for Cats Weighing Over 4 kg. Pack contains 4 Satchels.

Advantage is a trust worthy product produced by Bayer Animal to help aid in the protection and prevention of fleas. The product itself is easy to apply by squeezing the pre-measured satchel out onto the animals skin directly. 

Advantage
Kills Fleas Fast: Advantage kills 100% of existing fleas within 12 hours of application and keeps killing fleas within 20 minutes of contact.
Stops Fleas Biting: Advantage stops fleas biting within 3 to 5 minutes.
Larvicidal effect: Advantage has a proven ability to destroy 99% of flea larvae in the pet's surroundings.
Waterproof: Advantage remains effective even if your pet goes swimming or is bathed and shampooed.
Advantage spreads all throughout your animal using the natural skin oils to dispense itself where it is effective against fleas all month long.

Advantage also claims that the flea does not have to bite the animal to be affected so with Advantage your loving pet does not suffer from the painful and annoying bites fleas give.

Advantage is safe for use on pregnant or lactating animals.