Bayer Advantix Dogs - 25 Kg - 40 Kg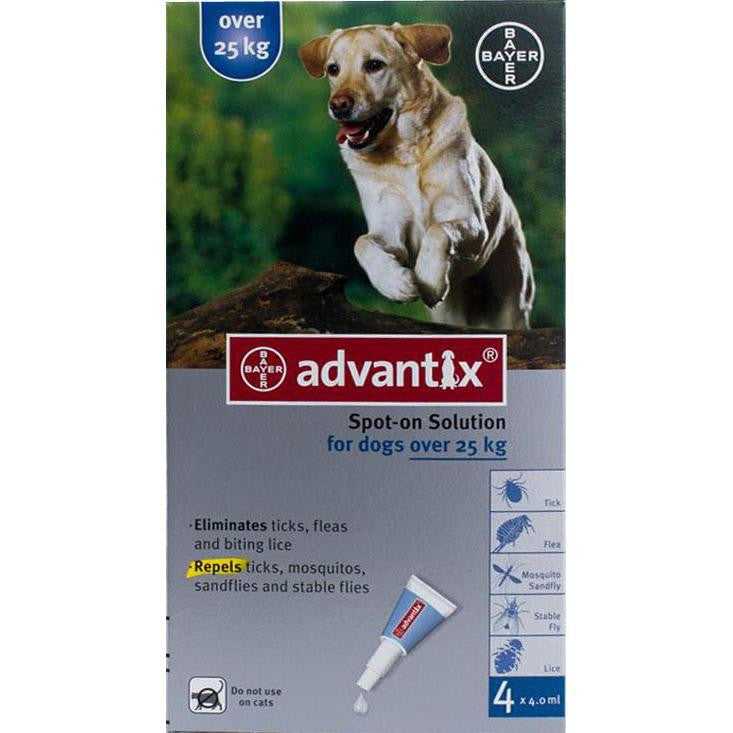 Indications for use
advantix® Spot on is designed for dermal application. Dogs with body weights under 10 kg should be treated at a single spot. The recommended minimum dose is: 10 mg/kg body weight (bw) Imidacloprid and 50 mg/kg body weight (bw) Permethrin.
Antiparasitic solution in spot-on. Effective treatment against fleas, ticks and mosquito repellent leishmania. Easy use and application only once a month. Do not use on cats.Do not use in puppies under 7 weeks of age or dogs under1.5 kg.
How to apply advantix®
Part your dog's hair until the skin is visible.
Squeeze the pipette evenly onto four spots along the skin of your dog's back, from the shoulders to the base of the tail.
Dogs come in many sizes, so advantix® does too
| Weight of dog | Name of product |
| --- | --- |
| 1.5 kg - 4 kg | advantix® Spot-on for dogs up to 4 kg |
| 4 kg - 10 kg | advantix® Spot-on for dogs 4 kg up to 10 kg |
| 10 kg - 25 kg | advantix® Spot-on for dogs 10 kg up to 25 kg |
| 25kg - 40 kg | advantix® Spot-on for dogs over 25kg |