Brit Grain free Salmon Adult Large Breed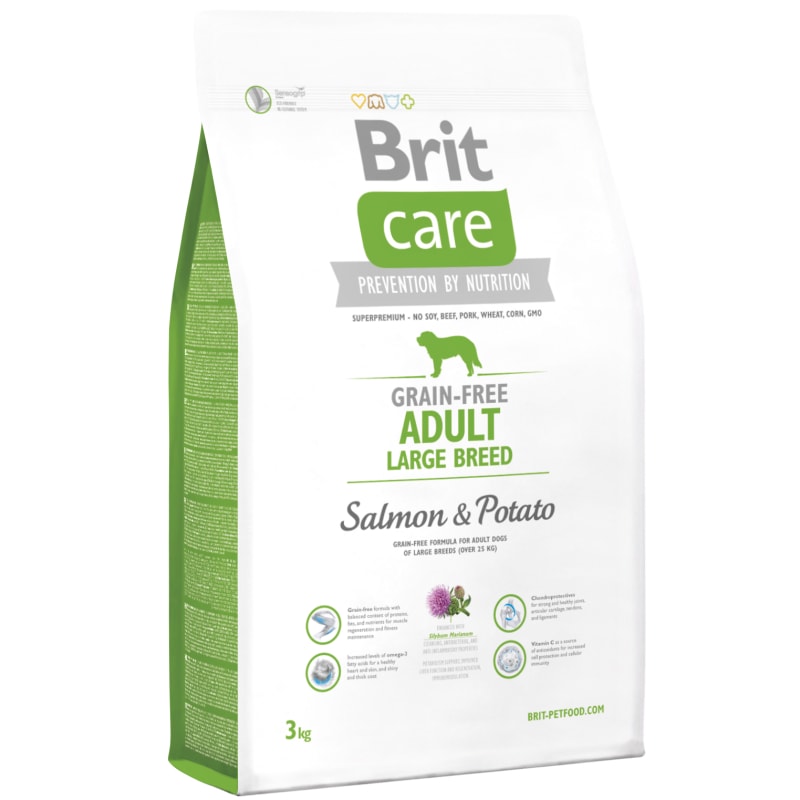 Brit Care Grain-free Adult Large Salmon & Potato is a special recipe developed to satisfy nutritional requirements of adult large dogs (over 25kg). Properly balanced, highly digestible formula influencing the health and well being of your pet.
Prevention against food allergies and intolerances
A recipe with a unique source of proteins and energy – salmon and potatoes - and with no cereals content for sensitive digestion.
Anti-aging factor - free radical protection
High levels of vitamin E and selenium in the organic form ensure a strong antioxidant complex, protecting the cell membranes from free radicals.
Immunity support & health protection
MOS (Mannan-oligosaccharides) maintain intestinal health, reduce pathogenic microflora in the intestines.
Support of intestinal microflora
Fructo-oligosaccharides are nutrition for positive microflora in the intestine and contribute to its health.
Intestine and liver protection, odour control
​Yucca extracts protect the intestine and liver from ammonia, and protect haemoglobin from degradation.