Gourmet Gold tins Ocean fish mousse (PATE), 85g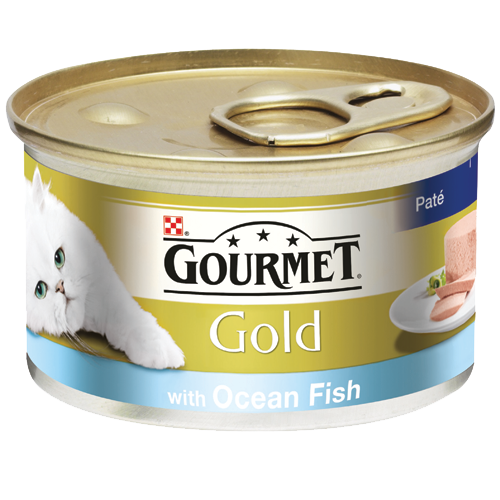 GOURMET® Gold is proud to present a delicious, moist pâté made with tender ocean fish. Designed to meet the expectations of cats with superior tastes, our delicate, carefully cooked recipe we are sure will please their palate at mealtimes. Each tin of pâté is individually sealed to ensure freshness with every serving, something that connoisseurs always appreciate. Our recipe is nutritionally complete, so your feline companion can be assured of a high quality diet that supports their daily activities, whether they prefer to lounge or play. We use high quality ingredients in every recipe, carefully cooking each one so the food retains its exquisite flavour. Delicious!
Even the most discerning of cats will consider themselves fortunate to dine on GOURMET® Gold: a menu of savoury recipes to spoil even a sophisticated palate like yours every day with a wide choice of different flavours and taste experiences. That is why GOURMET Gold has created Pâté recipes with meat or fish carefully prepared to offer you the pleasure of a delicate and smooth taste sensation. How can you possibly resist?