Oasy Pate One Protein, Rabbit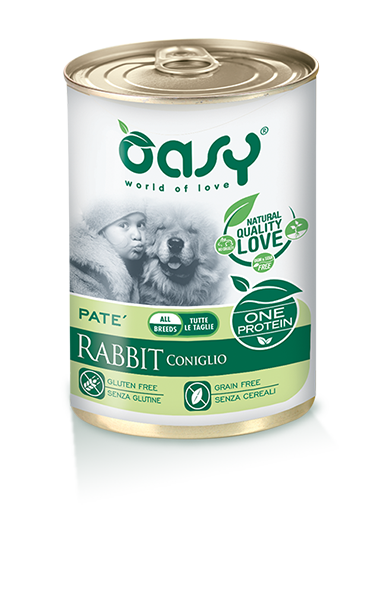 ONE PROTEIN RABBIT
COMPLETE MONOPROTEIC ADULT DOG FOOD
COMPOSITION: Rabbit 94%, carrot 4.1%, vegetable oils and fats.
ANALYTICAL CONSTITUENTS: Moisture 80%, Crude Protein 8%, Crude Oils and Fats 6%, Crude Ash 3.5%, Crude Fibres 0.5%.
ADDITIVES / KG: NUTRITIONAL ADDITIVES: Vitamin A 2670 IU, Vitamin D3 290.5 IU, Zinc Sulphate Monohydrate 42.77 mg, Ferrous Carbonate 13.5 mg, Cupric Sulphate Pentahydrate 6.42 mg, Potassium Iodide 0.49 mg, Manganous Sulphate Monohydrate 3.51 mg, Sodium Selenite 0.18 mg.
TECHNOLOGICAL ADDITIVES: Cassia Gum 1062.5 mg.
 
FEEDING GUIDELINES:
Oasy is ready for use and should be feed at room temperature. Always provide fresh water to your dog.