Versele Laga - Premium Prestige Australian Parrot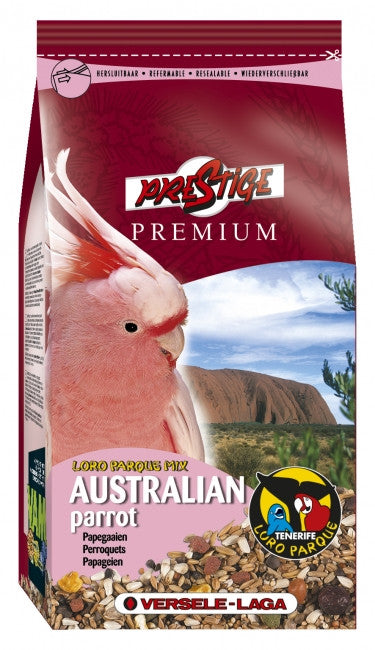 Variety seed mixture for all cockatoos, enriched with extra vitamins, minerals and trace element.
Australian Parrot Loro Parque Mix is an enriched seed mixture with extra food elements, specially made for all cockatoos. All the Prestige Premium Loro Parque mixtures are composed with a very varied supply of seeds and grains and contain a quantity of delicacies for parrots such as puffed grains, pumpkin seeds, rose hip, dried peppers and pine nuts.
This premium basic food with low fat percentage is enriched with 8 % Maxi VAM pellets, which assure an extra supply ofVitamins, Amino acids and Minerals. They also contain fructo-oligosacharides (florastimul) that promote intestinal health and feature high protein and energy contents.
Ingredients
Safflower seed, Buckwheat, Maxi VAM pellets, Wheat, Barley, Paddy rice, White millet, Pointed oats, Peeled oats, Canary seed, Hempseed, Yellow millet, Dari, Milocorn, Peanut kernels, Pine nuts, Oyster shells, Striped sunflower seeds, Popcorn, Rosehip, Popped wheat.