Versele Laga Snack Finches, 125G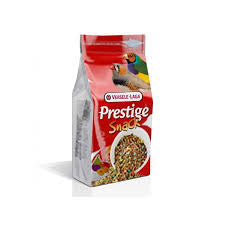 Versele Laga Prestige Snack Finches is a snack mixture with insects and fruit for all finch-like birds. This snack mix promotes singing and is full of tasty seeds, insects & grain. The mix is also supplemented with vitamins, amino acids and minerals for optimum condition. Waxbills and other finches just love it.
Directions for use
Provide up to a maximum of 25 % of the daily feed ration.
Composition
Seeds, Cereals, Bakery products, Insects 7%, Fruit 6% & Egg and egg derivatives